Pineapple Express Vape Cartridge – Elevated Collection
$31.99
Our Pineapple Express is a hard-hitting Sativa dominant strain. It is a cross between Trainwreck and Hawaiian. Its terpene profile has a sweet, tropical-fruit taste with a pine flavored finish. It's been known for its buzz and is a great strain to get through a busy day. *Made with 510 thread compatible C Cell Vape Cartridge* SHIPPING IS NOT AVAILABLE FOR VAPE PRODUCTS
How to use:
Keep cartridge stored in a cool place
Remove silicone top and screw into 510 thread battery
Do not screw on too tight
Use mouthpiece to inhale and enjoy
Whole Plant Elevated Collection Vape
Our Elevated Collection of CBD Vape cartridges are the highest quality vape cartridges in the market. This line mimics our cannabis collection for a legal CBD Hemp Cannabis Cartridge. Our cartridges are made with our exclusively Crystal Resistant CBD Distillate, which does not have any cutting agents. Since we use botanic cannabis derived strains, it makes it as close to a cannabis cartridge as possible.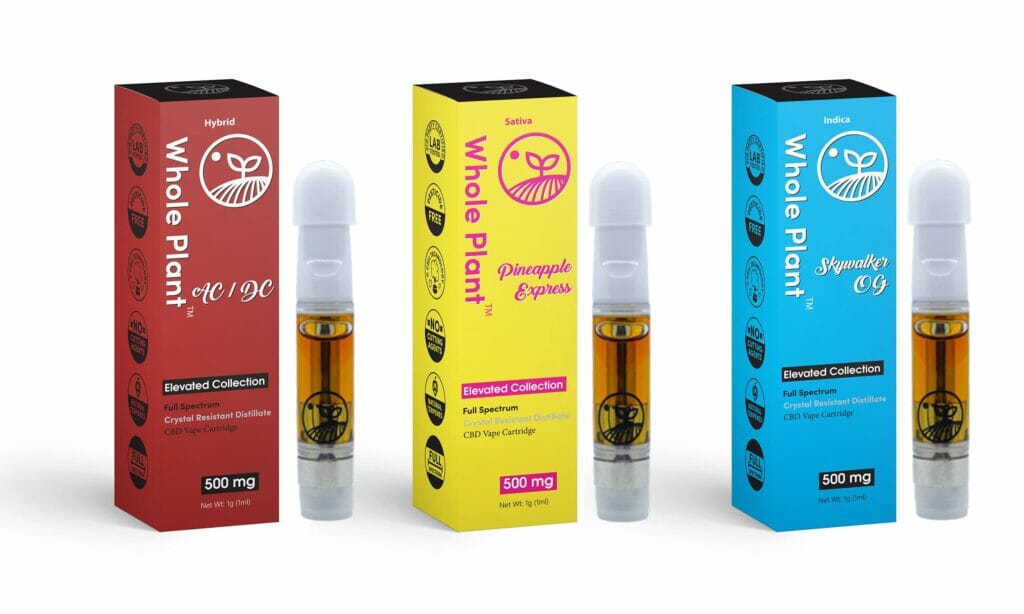 Full Panel Lab Test
We have a full panel lab test on our hemp flower and full-spectrum extract when it was grown and extracted. It has been tested for pesticides, microbial, micro-toxins residual solvents, potency, and terpenes.
Triple Lab Tested
We have our finished products lab tested for a 3rd time from a 3rd party lab to ensure quality and potency, in addition to our in-house testing.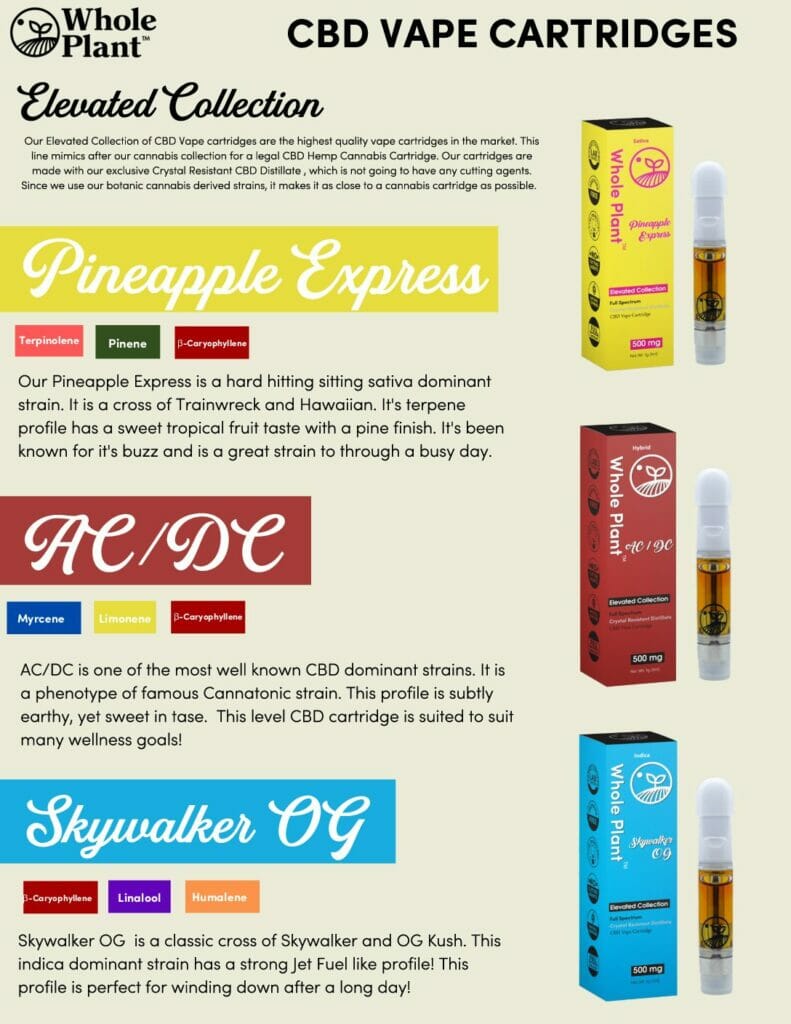 Distillate & Organic Terpenes
Our Crystal Resistant Distillate allows us to not have to use any cutting agents.
Our Whole Plant Disposable is a full all-natural vape with no additives.
C CELL Technology
Our disposable has C CELL technology with a quality ceramic coil for a clean vape draw.
Our C CELL has large intake wholes so there is no clogging with our thick whole plant oil.
Warning Statement:
Consumers should consult a licensed healthcare professional if pregnant, breastfeeding, currently taking medications, or under eighteen years of age.
Additional information
| | |
| --- | --- |
| Ingredients | Full Spectrum Hemp Extract, Organic (Sativa) Terpene Blend |
| Size | 1 ml |
| Strength (mg) | 500 |
| Variety | Pineapple Express |
Pineapple Express Vape Cartridge – Elevated Collection